MAGNETIC DRIVEN PUMP

Sealles Magnetic Drive Pump

Mechanical Seal Pump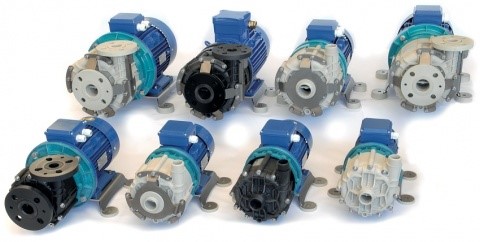 TMB/ TMR Series (Sealles, Magnetic Drive Pump)

The magnetic driven pumps have the patented "two axial directions self-alignment" system that allows the dry running for "R" internal configuration. The combination of adequate materials of guide system of the impeller to one specific magnetic field eliminates completely all the axial frictions that are the cause of breakages due to dry running. It is possible to install the motor without disassembling the pump.

ZMR Series (Mechanical Seal Pump)

Centrifugal horizontal close coupled pumps in thermoplastic materials, strongly built by injection moulding process. The structure is reinforced by fillings of glass or carbon fibre.

Mechanical seal executions can be either single or double.
Self-Priming Pump
The range of self priming pumps manufactured by Argal is made up by two magnetic drive models named TMA and by three mechanical sealed models named ZMA.

Magnetic drive pumps TMA are manufactured with GFR-PP (Glass fibre reinforced polypropylene) or flour polymer fluorinated CFFC E-CTFE+C (Carbon fiber filled Etylene-ChloroTriFluoroEtylene).
The innovative design of these magnetic drive pumps delivers more suction lift in less time making possible to prime what was not before to conventional self priming centrifugal pumps.

Mechanical sealed pumps ZMA are machined from blocks either in PP, PVC or PVDF material.

Vertical Pump




Thermoplastic vertical sump pumps
KGK and Equipro range of Argal vertical sump pumps have column and volute casing submerged in the liquid while motor, its support and delivery pipe are assembled to the common base plate which rests on top of the sump well above of the liquid.


PUMP LENGTH

The lengths of the columns varies accordingly to ranges ;
Equipro HME – column length from 275 up to 450 mm
Equipro KME – column length from 600 up to 1500 mm
KGK – column length from 500 up to 4000 mm.

CHEMICAL RESISTANCE
All components of the pumps wetted by the liquid pumped deliver excellent chemical resistance and are manufactured in PP or PVDF.


Models: